Attention: This site is no longer active. It will shutdown in February 2021.
Mission
The Geo-Mathematical Imaging Group (GMIG) at Purdue University is a unique, industry and government (NSF, DOE) funded, multidisciplinary and interinstitutional graduate educational and research program in inverse problems and subsurface energy, with the broader purpose of advancing the understanding of our planet's interior and developing fundamentally new technologies, with leading faculty from Mathematics, Computer Science, Physics, and Earth, Atmospheric and Planetary Sciences.
The program's mission is to meet the complex challenges of modern day prospect evaluation and general geological study of Earth's interior by expanding the boundaries of knowledge of seismic imaging and inverse problems and by controlling and reducing computational costs. 
Building on the combined expertise of GMIG's research team, the goals are the development of new geophysical probes, accounting for realistic physics and geology, to map and characterize multiscale structures and variations in rock properties, and connect them to the relevant geological, geodynamical and fluid flow processes. 
GMIG's research broadly focuses on
Latest Publications
Particle swarms in smooth-walled fractures , E.R. Boomsma and L.J. Pyrak-Nolte,  2014 View
Interface waves along fractures in anisotropic media , S. Shao and L.J. Pyrak-Nolte,  2013 View
Coupled wedge waves , B.C. Abell and L.J. Pyrak-Nolte,  2013 View
GMIG Home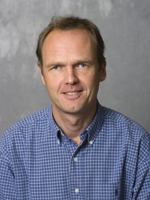 Personal Website
Department of Mathematics
Department of Earth, Atmospheric, and Planetary Sciences
Purdue University
West Lafayette, Indiana 47907, USA
Phone: 765-496-6439
email: mdehoop@purdue.edu